Hydrogen Storage Alloy & Hydrogen Cylinder
Hydrogen in gaseous state reacts to special metal alloy called hydrogen storage alloy and then it is stored as metallic hydride. Metallic hydride storing hydrogen is mounted in the safe hydrogen storage cylinder with the optimal design for supply. The hydrogen storage range of pressure is 3bar ~ 70 bar and it is a very safe hydrogen storage method with no risk of explosion. Compared to a liquid or gas storage (pressure: 700bar) for the given volume, it can offer 1.6 to 2 times the hydrogen storage capacity.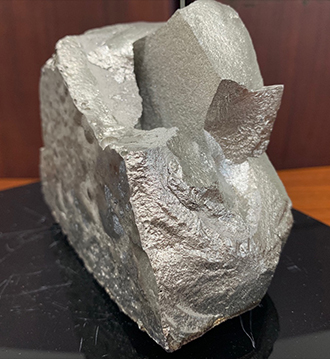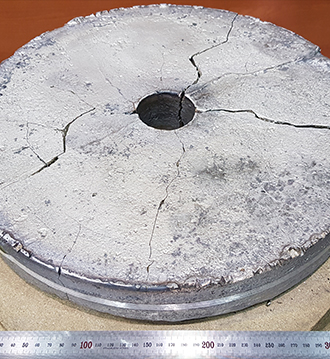 Hydrogen Storage Alloy (Metal Hydrides)
Ti-Mn2 base alloy with durability proven by more than 10,000 times life cycles.
Max variable storage capacity : 1.8~1.9 wt% (differs depending on the pressure/temperature condition.)
Can adjust the equilibrium pressure (10 ~ 30 bar) depending on the requirements.
Can be applied to various areas. (Hydrogen ships, construction equipment such as forklift or excavator, unmanned underwater vehicle, hydrogen model city)
Can provide twice the hydrogen storage capacity compared to liquid storage, high pressure hydrogen storage method(High volume storage density). /Safe storage method. (No risk of explosion)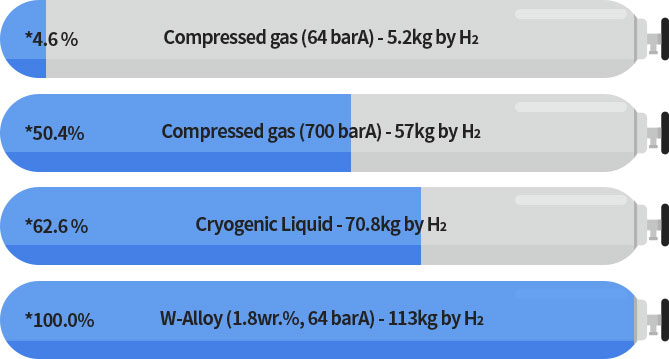 Comparison of Hydrogen Storage Capacities
*Assuming the cylinder volume of 1,000L
| Storage method | Storage capacity |
| --- | --- |
| Compressed gas at 64 barA | 5.2Kg by H2(4.6%) |
| Compressed gas at 700 barA | 57Kg by H2(50.4%) |
| Cryogenic Liquid | 70.8Kg by H2(70.8%) |
| W-Alloy | 113Kg by H2(100%) |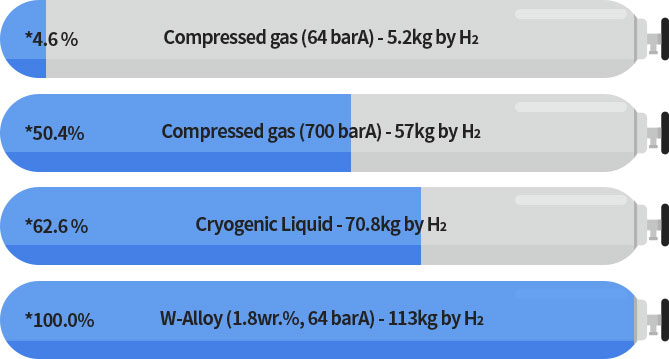 Major Experience
No.
Project
Owner
Customer
Country
Year
Remarks
1
Janbogo III Batch II 1st , 2nd ship
DAPA
DSME
Korea
2021 ~ 2025
Hydrogen Storage Alloy 580 Ton
Hydrogen Cylinder 152 Sets
2
Regulation-free special zone's(Ulsan) hydrogen fuel cell driving system application and operation verification
Ministry of SMEs and Startups
Gaoncell
Korea
2021
3
Development of safety criteria for hydrogen storage containers and fuel supply systems for ships
Ministry of Oceans and Fisheries
Korean Register
Korea
2020 ~ 2024
4
Hydrogen model city infrastructure development
Mistry of Land, Infrastructure and Transport
KIER
Korea
2020 ~ 2023
5
Solid hydrogen storage system development for forklift fuel cell
Hyundai/KIA Motors
Hyundai/KIA Motors
Korea
2020 ~ 2022
6
Hydrogen reaction heat based hydrogen/oxygen generator (unmanned underwater Vehicle)
ADD
KAIST
Korea
2019 ~ 2022
7
Janbogo III Batch I 1st , 2nd , 3rd Ship
DAPA
DSME
Korea
2015 ~ 2020
Hydrogen Storage Alloy 555 Ton
Hydrogen Cylinder 198 Sets
High-Purity Hydrogen Production Unit
It is a facility that uses city gas as the main feedstock to extract hydrogen with a high level of purity/ low cost facility with 100% Korean technology where thermal and system integration engineering technologies are applied. It is economical and this high performance hydrogen production facility offers the high performance including a hydrogen purity level of 99.999% or higher, reforming efficiency of 80% or higher and CO concentration of 0.2ppm or less and once connected to the city gas pipe line, it can easily produce hydrogen near the location in needs such as hydrogen refueling stations, hydrogen fuel cell and so on.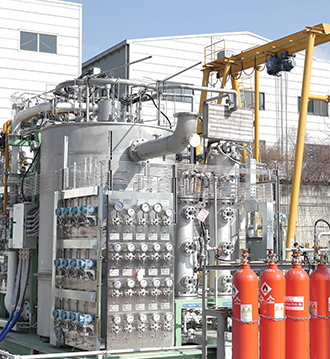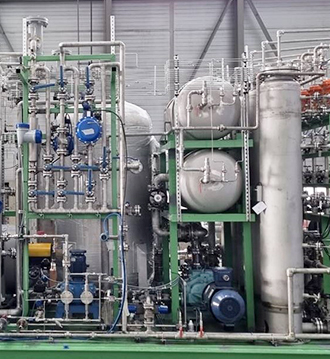 Pyeongtaek Hydrogen Production Base Project (300 N㎥/hr)
| | |
| --- | --- |
| Owner | Pyeongtaek-si |
| Customer | Korea Gas Technology Corporation |
| Country | Korea |
| Year | 2022 |
| Remarks | 300 N㎥/hr x 1 Set |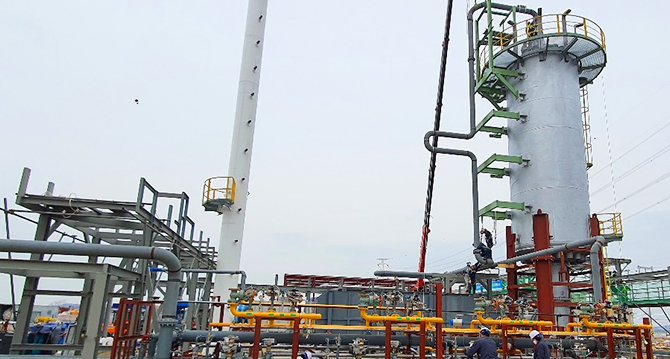 Pyeongtaek Hydrogen Production Base Project (3,000 N㎥/hr)
| | |
| --- | --- |
| Owner | Pyeongtaek-si |
| Customer | Korea Gas Technology Corporation |
| Country | Korea |
| Year | 2022 |
| Remarks | 3,000 N㎥/hr x 1 Set |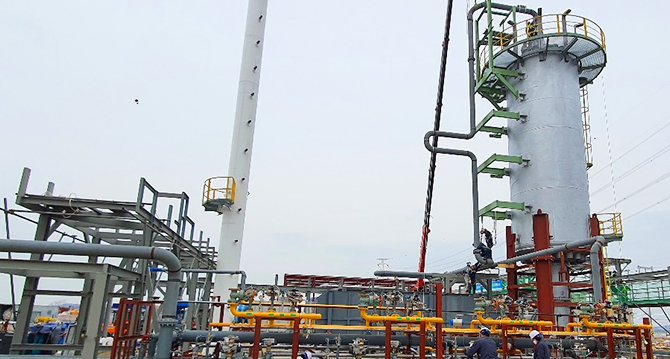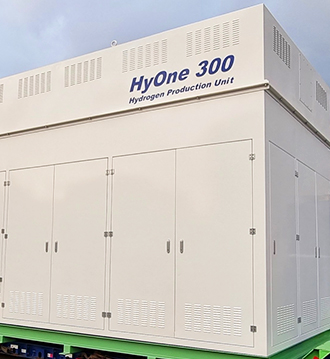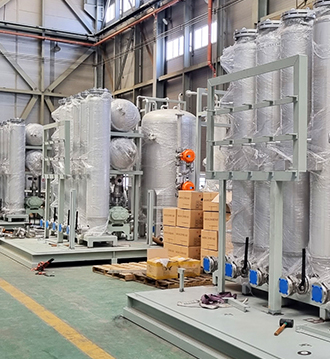 Ansan, Wanju Hydrogen Pilot City Project
Owner
Ansan-si, Wanju-si
Customer
Ansan urban development Inc , Woosuk University
Country
Korea
Year
2022
Remarks
300 N㎥/hr x 3 Sets(Ansan)
300 N㎥/hr x 4 Sets(Wanju)
Major Experience
No.
Project
Owner
Customer
Country
Year
Remarks
1
Pyeongtaek Hydrogen Production Base PJT
Pyeongtaek-si
KOGAS
Korea
2022
3,000 N㎥/hr x 1 Set,
300 N㎥/hr x 1 Set
2
Ansan Hydrogen Pilot City PJT
Ansan-si
Ansan Urban Development Inc.
Korea
2022
300 N㎥ x 3 Sets
3
Wanju Hydrogen Refueling Station PJT
Wanju-si
Woosuk University
Korea
2022
300 N㎥ x 2 Sets
4
Wanju Hydrogen Refueling Station PJT
Wanju-si
KOGASTECH
Korea
2022
300 N㎥ x 2 Sets
5
Development of high efficiency, mid/big sized hydrogen reforming technology(2,000kg/day class)
Ministry of Industry and Energy
Ministry of Industry and Energy
Korea
2021 ~ 2025
1,000 N㎥/hr x 1 Set